Hi everyone! Thanks for playing with us one more week here @ Pile It On! Tinsel Town was very well taken by everyone in cyberspace. We will have the TOP 3 SCOOPS announced on Tuesday and of course the winner of Tinsel Town challenge too.
We are looking for a new Design team and the December's Challenges will be a Design Team Call. So if you are interested in being part of the 2010 team (for the first 3 months of the year) then just type DT submission next to your name in Mr. Linky.
A few of the DT rules if you are chosen:
We will assign either TEAM A or TEAM B to be part of, you are expected to do a challenge every other week. (Of course you can always do all the challenges.)
Our challenges are posted in advance in a private yahoo group, but due to the nature of Pile It On, not much work can be done in advance since you have to have at least one more CURRENT challenge done in your project.
You can do ANY type of crafty item.
Samples need to be uploaded to the BLOG on Saturday.
We will rotate between the DT the selection of the TOP 3 Scoops!
The Design Team reign will be of 3 months
KEEP THOSE ENTRIES COMING LADIES... THANKS!
This week's challenge is all about Chipboard... we want to see chipboard different uses for chipboard... and here is the fabulous work of our Design Team members.
By Katie -
Both Sides of the Paper
Challenges for Katie:
By Jennifer-
RandomVintageFinds
Challenges for Jennifer:
By Amy -
And She Loved Flowers...
Challenges for Amy:
Timi -
My Journey to the World of Scrapbooking
Challenges for Timi:
Pile it on - use layered chipboard
Coordinates Collection
- December GDT Contest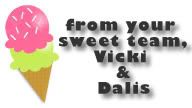 Alpha used for the Challenge title is by Marie Stones.