First we would like to thank ALL of you for participating in our debut challenge!! We were VERY excited to have as many participants as we did!! We are glad you are enjoying PILING IT ON!!! That being said - we hope you will join us again this week and continue to submit for the Design Team Call - which you can see in
THIS
post.
On to this week's challenge:
We want you to use RIBBON on your project - at least
TWO DIFFERENT RIBBONS
! You must, of course, combine with at least one other challenge!
And guess what ladies!!!!  We have a Sponsor!!!!!   
The girls at
Savvy 'N Sassy (SNS)
know their ribbon!  They make the most gorgeous Ribbon kits I have ever seen and their shipping is really low!  Plus they have tons of other "necessities" in the store.  Right now she is offering a sale where the more you buy the more you get back, check out their
home page at the store
.
So you may be wondering what is the prize!?!?!?!  We have 3 (yes, three) Gift Certificates of $10.  One for each of our Three Scoops for this Ribbon Challenge!!!  and a Random Winner will get another $10 Gift Certificate!!!  So ladies... get that ribbon out!!!!!
Here's what Dalis & I came up with:
So this cute little bag tag counts for the following challenges:
Challenges:
And now - for this week's TOP THREE SCOOPS! - Grab your blinky ladies!
(in no particular order)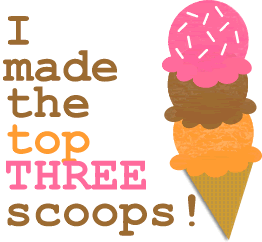 Ann - Raindrop Echo Designs
Joann - Joann's Little Things
Heidi - Haphazardly Crafty
I must tell you that picking the top three was NOT easy AT ALL!! And up until 11:30 last night, we had about 14 in the running!! There were SO MANY FANTABULOUS creations!! We would like to thank you ALL for participating and we can't wait to see your creations this week!
Once again, please let us know if you are submitting for the
DT CALL
.   And remember if you want to be considered for the DT this week, just leave us a direct link to your project here on this post and please just put DT after your name when submitting.